Tuesday, March 17, 2009
Gran Fondo San Diego
February 28th
Bobbie asked me a while back if I wanted to go to California and ride a century (100 miles). I casually said yes, since I've done many 100+ mile rides, and thought nothing of it. As the time came to go and do the ride, I checked out the route. That's when I got a little nervous. The elevation profile showed about 4,800 feet of climbing. That's not terribly extreme, but it's close.
Gran Fondo is Italian for "Big Ride". Apparently it's an Italian tradition and there are several held every week during the summer. The 2009 Gran Fondo San Diego was the first time anyone has tried this sort of ride in the United States. The ride was being sponsored by
Colnago
, a famous Italian bicycle manufacturer. Ernesto Colnago is considered to be the current reigning Godfather of cycling. At the event registration, there were many beautiful Conago bikes and, of course, Ernesto and his crew. At one point, I was alone in the same room with him. I didn't say anything, because, what do you say to someone like that? It turns out, he doesn't speak much English so he may not have understood me if I had said anything to him. Still, it was quite an experience being in the presence of bicycle royalty.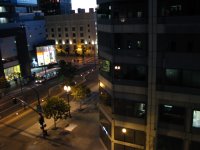 We wound up staying at the
500 West Hotel
, which formerly housed the U.S. Armed Services YMCA. It was cheap, and since we didn't really spend much time there, it wasn't that bad. The room was noisy but it was a great way to get the feel of downtown San Diego.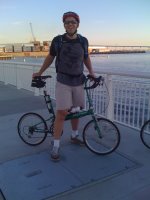 After we got registered on Saturday, we spent some time cruising around downtown. We explored the waterfront and rode by the convention center until it got dark. Then we headed back to the hotel. The only restaurant around that wasn't terribly busy was a Baja Fresh. The food was ok, but it would have been nice to find something better. We tried to get to sleep early, since the ride started at 7 am.
The hotel was also just a few blocks away from the start of the ride. We got there just before the start and worked our way through the half century riders. The ride started in 5 minute waves and we ended up somewhere in the middle. Before each wave started, Ernesto would send them off with "have a good ride" in a thick Italian accent. For the first few miles, we had the whole road while police blocked off the intersections for us. After a while, the pack started to spread out and we were on our own.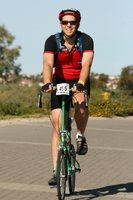 I lost Bobbie as she worked her way ahead of me. I ended up passing her at the first rest stop and she ended up catching me again after that. We rode together for a while until we got to the Olympic training center. She asked me if I was going to stop, but I refused. I felt pretty good and wanted to keep going.
I should have known better. Bobbie has more experience that me in endurance events. I would soon pay the price for my refusal to listen. In the mean time, I had a lot of fun on the Olympic training course that was part of the ride. The road was smooth, except for the brick intersection or two.
As I got back out on the highway, two things really started bothering me. First, the Velcro from my seat bag was rubbing my thighs as I pedaled. Second, my front derailleur was rubbing my chain in all but a few gears. Eventually, both became too much to tolerate, so I stopped by the side of the rode. I took the seat bag off and put it in my Camelback. I found the source of my chain noise to be a misaligned derailleur and quickly fixed it.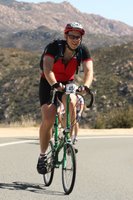 Back on the road once again, I was enjoying the scenery, not noticing the day getting hotter until it was too late. Suddenly, there was a turn off on the road to Honey Springs. This was the dreaded climb. I rode over a sensor that started the timed portion of the ride, and suddenly, I felt the sun beating down on me. The grade wasn't that steep. I ride hills like that every day to work and back, but this time, I felt like I was going to pass out from heat stroke if I pushed myself too hard. After a mile or two, I finally had to stop because of nausea. Fortunately, Bobbie had given me a hand full of
electrolyte capsules
. After taking one and waiting a few minutes, I felt better. I then began a slow climb once more. After another two or three miles, I had to stop and take another capsule. Finally, I reached the top of the mountain where an aid station was set up. There were at least a hundred riders in various stages of exhaustion lying around. I rested for a few minutes and started the downhill descent. I should have taken the opportunity to refill my Camelback, but I was anxious to get going.
I zoomed down the mountain roads at around 35 mph, recovering from the long climb but still very thirsty. At the fifty mile mark, there was a sign indicating an aid station at 60 miles. I was hoping my water supply would hold out, but it didn't. Fortunately, just after I ran out of water, I came across some three gallon water jugs left by the side of the road. I stopped and refilled my water botter after taking a long drink. I also helped a few other riders refill their bottles. The big hill was over, but there was plenty of climbing left to do. In between my water stop and the 60 mile aid station, I took the last two capsules. Just before I started off from my last rest, I heard a familiar giggle from behind me. Bobbie had caught up.
She stopped and told me about her climbing experience. She had been better prepared for the climb, but had stopped to help the others. She said there were quite a few riders lying on the side of the road or in pain from cramps and dehydration. She had given away most of her water and capsules, as had most of the riders who had them. We rode together for the last mile to the rest area. When I got there, I started eating oranges. I craved them. I couldn't get enough of them. I must have eaten at least a four oranges in just 10 minutes. I refilled my Camelback with water and ice and had a beer shot. That's right, beer shot. Tecate never tasted so good. It was just enough to be refreshing but not enough to hurt.
The last 40 miles were mostly downhill. That was a good thing, because I was really hurting by that time. Right aroun mile 70 or so, I got a flat. Normally, I would have been upset, but at that point, it was just a welcome excuse to take a break. I pulled off onto a sidewalk, sat down and began to replace the tube. The only distraction was a never ending litany of "are you ok" and "need any help" inquiries from other passing riders. I had everything I needed and in 15 minutes I had extracted the offending glass from my tire and was back on the road. By the 80 mile mark, my chest started to feel tight in the area of my heart. I was a little worried, so I stopped until the sensation went away. As long as I didn't push myself too hard the sensation didn't come back, so I took it easy.
Finally, after a few more rest stops and many more miles, I started getting back into downtown. I was with another group of riders and at some point, we all got lost. We circled back and came across a group of Italians who were also lost. One of them seemed like he knew where he was going, so we followed him. He got us back onto the route and we slowly progressed back into downtown. I would be lying if I said I didn't get a little emotional approaching the finish. It had been one of the toughest rides I'd ever done. I crossed the finish line and Bobbie was waiting there for me. She had arrived a half hour earlier, the amount of time taken up by my flat and getting lost. We sat down and had some pasta, then headed back to the hotel.
After a shower, I suggested we go out and have a nice dinner. We asked the guy at the counter for suggestions and he said there was a Ruth's Chris steakhouse just down the street. I jumped at the chance to eat there. Bobbie hadn't heard of it, but I assured her it was just what we were looking for. After we were seated, Bobbie looked at the menu and wanted to leave after seeing the prices. I insisted on staying and told her I was buying. She had a fillet mignon and I had a New York strip. We also ordered some mashed potatoes and broccoli au' gratin. The meal was everything I had heard it would be. The steak was unbelievable. I knew it would be good, but nothing could have prepared me for real thing. It was the most savory meat I had ever tasted. It was the perfect way to top off a hard day of riding. After dinner we walked back to the hotel and packed up the bikes. Then we settled in for a good nights sleep.
The next morning, we took one last walk around downtown before heading home. It had been a great weekend and I decided I definitely wanted to do it again next year.
Subscribe to Posts [Atom]