Thursday, March 19, 2009
St. Patty's Day 5k
Last weekend I did my first 5k (3.1 miles). It's the longest that I've run at one time. I was pretty nervous going into it because my performance on the treadmill has been rather dismal lately. Before the Thanksgiving Day Duathlon I did with my brother, I was eeking out a 20 minute 2 mile workout. My times of late have been in the 11 minute mile range. This is due to my changing running styles to incorporate the Pose Method (or some perversion of it). It's feeling a lot better overall, but I now have to build up some of the calf muscles that I'm lacking.

The day of the run was wet and rainy. Bobbie and I decided to ride our bikes down to the start, since it was only a few miles from her house. She took one of her mountain bikes and I rode my Bike Friday, since it was green. By the time we got to the start, my feet were completely soaked. She had a cheap green feather boa wrapped around her waist that was leaving feathers everywhere. She had given one to me, but I decided I was going to have enough to worry about without feathers flying everywhere. Right before the start, I took off my shoes and wrung out my socks as best I could. It helped a little but my feet were still pretty damp.

We positioned ourselves in the middle of the 700+ pack of runners and when the gun went off it took a minute for us to get past the start. I felt pretty good as we jogged along in the pack and I was suprised to see the 1 mile mark come up as quickly as it did. Shortly after that, we saw the leaders already heading back. That's about the time that I started hurting. I knew it was only going to get worse from there, but I absolutely did not want to walk at all. I pushed on through the midway point to the second mile mark. By that time, my calves were really burning. I knew I was going to be limping for a few days. I pushed on through the pain and eventually the finish line came into sight. I summoned up all my energy for one last 50 yard dash and sprinted across the finish line.

Once I stopped, the pain from my calves became much more noticable. I hobbled over the fence and tried to stretch them out. When I turned around to get some water, my eye caught the race clock. It read 31:35. I knew I had been across the finish line for more about two minutes and I was floored! I had wanted to try and do the run in under 30 minutes, but I never expected that to happen. Later in the day, I checked the times and I had done it in 29:44 averaging a 9:35 minute mile.

Sure enough, I was limping for quite a few days this week. It's been four days so far and my calves are now getting to the point where I don't limp so much. I've been trying to walk as much as I can to speed the recovery process. This weekend I'm going to do the Mercer Island 5k. Hopefully, I can improve on my time. After that, I'm going to start moving up the distance. It shouldn't be too long before I'm doing half marathons and marathons. Maybe I'll even beat my brother in this years Thanksgiving Day Triathlon.

Tuesday, March 17, 2009
Gran Fondo San Diego
February 28th
Bobbie asked me a while back if I wanted to go to California and ride a century (100 miles). I casually said yes, since I've done many 100+ mile rides, and thought nothing of it. As the time came to go and do the ride, I checked out the route. That's when I got a little nervous. The elevation profile showed about 4,800 feet of climbing. That's not terribly extreme, but it's close.
Gran Fondo is Italian for "Big Ride". Apparently it's an Italian tradition and there are several held every week during the summer. The 2009 Gran Fondo San Diego was the first time anyone has tried this sort of ride in the United States. The ride was being sponsored by
Colnago
, a famous Italian bicycle manufacturer. Ernesto Colnago is considered to be the current reigning Godfather of cycling. At the event registration, there were many beautiful Conago bikes and, of course, Ernesto and his crew. At one point, I was alone in the same room with him. I didn't say anything, because, what do you say to someone like that? It turns out, he doesn't speak much English so he may not have understood me if I had said anything to him. Still, it was quite an experience being in the presence of bicycle royalty.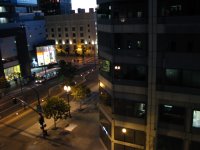 We wound up staying at the
500 West Hotel
, which formerly housed the U.S. Armed Services YMCA. It was cheap, and since we didn't really spend much time there, it wasn't that bad. The room was noisy but it was a great way to get the feel of downtown San Diego.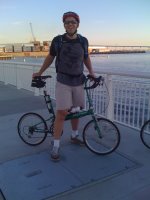 After we got registered on Saturday, we spent some time cruising around downtown. We explored the waterfront and rode by the convention center until it got dark. Then we headed back to the hotel. The only restaurant around that wasn't terribly busy was a Baja Fresh. The food was ok, but it would have been nice to find something better. We tried to get to sleep early, since the ride started at 7 am.
The hotel was also just a few blocks away from the start of the ride. We got there just before the start and worked our way through the half century riders. The ride started in 5 minute waves and we ended up somewhere in the middle. Before each wave started, Ernesto would send them off with "have a good ride" in a thick Italian accent. For the first few miles, we had the whole road while police blocked off the intersections for us. After a while, the pack started to spread out and we were on our own.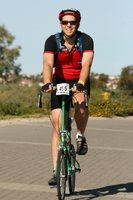 I lost Bobbie as she worked her way ahead of me. I ended up passing her at the first rest stop and she ended up catching me again after that. We rode together for a while until we got to the Olympic training center. She asked me if I was going to stop, but I refused. I felt pretty good and wanted to keep going.
I should have known better. Bobbie has more experience that me in endurance events. I would soon pay the price for my refusal to listen. In the mean time, I had a lot of fun on the Olympic training course that was part of the ride. The road was smooth, except for the brick intersection or two.
As I got back out on the highway, two things really started bothering me. First, the Velcro from my seat bag was rubbing my thighs as I pedaled. Second, my front derailleur was rubbing my chain in all but a few gears. Eventually, both became too much to tolerate, so I stopped by the side of the rode. I took the seat bag off and put it in my Camelback. I found the source of my chain noise to be a misaligned derailleur and quickly fixed it.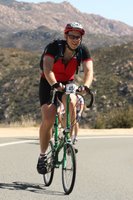 Back on the road once again, I was enjoying the scenery, not noticing the day getting hotter until it was too late. Suddenly, there was a turn off on the road to Honey Springs. This was the dreaded climb. I rode over a sensor that started the timed portion of the ride, and suddenly, I felt the sun beating down on me. The grade wasn't that steep. I ride hills like that every day to work and back, but this time, I felt like I was going to pass out from heat stroke if I pushed myself too hard. After a mile or two, I finally had to stop because of nausea. Fortunately, Bobbie had given me a hand full of
electrolyte capsules
. After taking one and waiting a few minutes, I felt better. I then began a slow climb once more. After another two or three miles, I had to stop and take another capsule. Finally, I reached the top of the mountain where an aid station was set up. There were at least a hundred riders in various stages of exhaustion lying around. I rested for a few minutes and started the downhill descent. I should have taken the opportunity to refill my Camelback, but I was anxious to get going.
I zoomed down the mountain roads at around 35 mph, recovering from the long climb but still very thirsty. At the fifty mile mark, there was a sign indicating an aid station at 60 miles. I was hoping my water supply would hold out, but it didn't. Fortunately, just after I ran out of water, I came across some three gallon water jugs left by the side of the road. I stopped and refilled my water botter after taking a long drink. I also helped a few other riders refill their bottles. The big hill was over, but there was plenty of climbing left to do. In between my water stop and the 60 mile aid station, I took the last two capsules. Just before I started off from my last rest, I heard a familiar giggle from behind me. Bobbie had caught up.
She stopped and told me about her climbing experience. She had been better prepared for the climb, but had stopped to help the others. She said there were quite a few riders lying on the side of the road or in pain from cramps and dehydration. She had given away most of her water and capsules, as had most of the riders who had them. We rode together for the last mile to the rest area. When I got there, I started eating oranges. I craved them. I couldn't get enough of them. I must have eaten at least a four oranges in just 10 minutes. I refilled my Camelback with water and ice and had a beer shot. That's right, beer shot. Tecate never tasted so good. It was just enough to be refreshing but not enough to hurt.
The last 40 miles were mostly downhill. That was a good thing, because I was really hurting by that time. Right aroun mile 70 or so, I got a flat. Normally, I would have been upset, but at that point, it was just a welcome excuse to take a break. I pulled off onto a sidewalk, sat down and began to replace the tube. The only distraction was a never ending litany of "are you ok" and "need any help" inquiries from other passing riders. I had everything I needed and in 15 minutes I had extracted the offending glass from my tire and was back on the road. By the 80 mile mark, my chest started to feel tight in the area of my heart. I was a little worried, so I stopped until the sensation went away. As long as I didn't push myself too hard the sensation didn't come back, so I took it easy.
Finally, after a few more rest stops and many more miles, I started getting back into downtown. I was with another group of riders and at some point, we all got lost. We circled back and came across a group of Italians who were also lost. One of them seemed like he knew where he was going, so we followed him. He got us back onto the route and we slowly progressed back into downtown. I would be lying if I said I didn't get a little emotional approaching the finish. It had been one of the toughest rides I'd ever done. I crossed the finish line and Bobbie was waiting there for me. She had arrived a half hour earlier, the amount of time taken up by my flat and getting lost. We sat down and had some pasta, then headed back to the hotel.
After a shower, I suggested we go out and have a nice dinner. We asked the guy at the counter for suggestions and he said there was a Ruth's Chris steakhouse just down the street. I jumped at the chance to eat there. Bobbie hadn't heard of it, but I assured her it was just what we were looking for. After we were seated, Bobbie looked at the menu and wanted to leave after seeing the prices. I insisted on staying and told her I was buying. She had a fillet mignon and I had a New York strip. We also ordered some mashed potatoes and broccoli au' gratin. The meal was everything I had heard it would be. The steak was unbelievable. I knew it would be good, but nothing could have prepared me for real thing. It was the most savory meat I had ever tasted. It was the perfect way to top off a hard day of riding. After dinner we walked back to the hotel and packed up the bikes. Then we settled in for a good nights sleep.
The next morning, we took one last walk around downtown before heading home. It had been a great weekend and I decided I definitely wanted to do it again next year.
Thursday, March 12, 2009
Green Mountain
February 22
A couple of weeks ago Bobbie took me mountain biking with some of her friends, which as it turns out, were some of my friends. It seems we know a lot of the same people. I had a mountain bike, but it was more of a general purpose beast that was intended for hauling groceries as much as hauling through single tracks. Before the ride I put the knobby tires back on and took off the fenders and rack. It performed admirably but I was still hard pressed to keep up with everyone else.
I really enjoyed myself, so that night I went down to
Arron's Bicycle Repair
and asked Mikey what kind of bike I should get. After looking through a catalog, he advised me to get a
Rize 4
. This is not the top of the line Rize, but Mikey advised against getting that because the Lefty fork is rather difficult to service and requires special hubs. So, I went ahead and ordered a Rize 4. Two weeks later, after a trip back for fitting, I picked up my brand new bike. The next day, Bobbie and I went out to
Green Mountain
to try it out. The ride consisted of a six mile climb to the top of the mountain and a six mile descent back down. Simple enough, right? Well, not quite. After the first half mile, I was really sweating. After the first mile, I was just plain dead. I couldn't keep the front wheel on the ground without an enormous amount of effort and my legs felt like rubber. I couldn't understand what was wrong with me. Bobbie was very supportive, giggling as I trudged up to the fire road to meet her. We rested for about fifteen minutes and then I was ready to try some more. After a few hundred yards, I was out of breath again and quite alone. Bobbie wasn't about to wait around for me. Somewhere along the way, as I was trying to go up over some rocks, the front wheel came off the ground and sent me onto my back. If I hadn't been wearing a Camelback, I might have been in real trouble. The water filled bladder cushioned my fall and I just bumped my elbow a little. After taking a few minutes to recover, I got back on the bike. It was on an incline already, but as I got on I felt the back end sag down and that's when it hit me. "I sure wish I could stiffen up this suspension" I thought to myself. That's when I remembered the little lever just under the rear suspension that makes it stiffer (I later learned it's called "Pro Pedal"). I flipped the lever and suddenly the climb seemed a lot easier. I was still rather worn out, but I managed to keep up for the rest of the ride. By the time we got to the top of the mountain, my bike was pretty well broken in.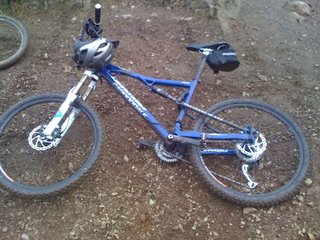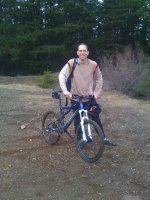 I was having a good time and the view from the top was pretty amazing as well. We could just make out the buildings in downtown Seattle from across the water. In between us and Seattle was Bainbridge Island, where the Chilly Hilly and FHR were going on. This was the ride that I had so badly injured myself on just two years earlier. I thought about how, having conquered it last year, I was now in search of new and better ways to get hurt. At least if I got hurt today, two thousand other people wouldn't have to see it.
The way down was a little easier, but I made sure to play it safe. Even so, there was only one or two areas that I felt compelled to walk down. The bike handled quite well and after I got down to the trailhead, I told Bobbie I wanted to try it again soon. She couldn't believe that I would come back for more abuse but, I think now that I'm a little more experienced, it should be a little easier. Just a little.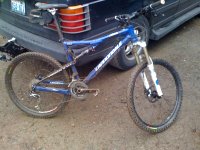 Sunday, March 8, 2009
Riding Bikes in Maui - Part Two: The Hana Highway
We had wanted to ride the Haleakala (Holly-ah-
kuh
-
lah
) volcano but since we had no rental car, the logistics of getting there proved to be unworkable. Later, we found out that due to low tourist expectations, a great number of rental cars had been shipped off the island, making them scarce.
Instead, we decided to take a ride along the scenic Hana Highway to
Twin Falls
. The ride was a little slow getting there but we came across some other cyclists preparing for a triathlon. We spent some time in their pace line, making the miles fly by quickly. When they decided to turn around, we were fairly close to our destination.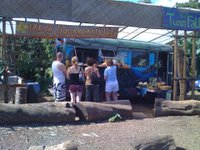 The heat of the day soon took it's toll and we arrived hot and tired. Fortunately, there was a fruit stand there and we were able to get some banana bread and sugar cane juice. We had to wait in line while the lady running the stand hand cranked the press to squeeze the juice out of the sugar cane. The stuff was absolutely delicious. I expected it to be a lot sweeter than it was, so I guess unrefined sugar cane really isn't super sweet.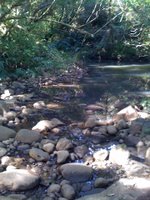 After resting for a few minutes we began our trek down to the falls. We were a little apprehensive about making the one mile walk in our cycling shoes but it turned out to be quite manageable. When we arrived at the falls, we had to walk along a narrow wall that had been built up to direct the flow of the river. Then we had to wade through a knee deep pond to get to the falls. The area was rather rocky, so Bobbie decided to keep her shoes on. I didn't want to ride back in soggy shoes so I took mine off. She tried to convince me to keep them on due to her extensive experience with this sort of thing when mountain biking. I wouldn't listen, so I waded into the water bare foot. After about ten feet of painful progress, I was forced to backtrack and admit that she was right. For anyone paying attention, this will be a recurring theme in future posts.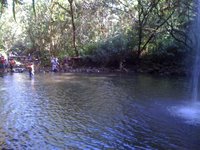 As we were walking across the pond, I saw another man trying to do the same thing I had just done. He
grimaced
with each step as he waded further and further out. Just after the point that I had made it to, he hit an exceptionally painful rock and stumbled. His cell phone and camera both took a dunk. He should have learned from my mistake, but who am I to judge?
We finally made it to the falls where we watched for a few minutes as people swung from a rope into the water. After watching for a while, I decided I had to do it. I took off all of the items that I didn't want to get wet climbed onto the rock and grabbed the rope. I swung out over the water and let go. It was cold and refreshing. I did it again and then convinced Bobbie to do it. We then headed back to the bikes that we had left near the entrance. By the time we made it back, I think we both were ready for another swim. Fortunately, we had a very strong tailwind on the way back and we averaged well over 20mph all the way back. As we came back into
Kihei
, Bobbie said "I could really go for a cheeseburger". Right at that point, I decided that this was going to be a long and wonderful relationship. We found a sports bar and enjoyed delicious cheeseburgers as we watched the
Steelers
make it to the
Superbowl
. We got back to the hotel, took a nap and broke down the bikes for the trip home the next day.
Monday morning, we got up bright and early for our snorkeling tour. We had waited until the last day and it ended up being perfect. It was clear, calm and cool. For me, it was perfect. For Bobbie it was a little too cold. I really hadn't been snorkeling before, so I was rather apprehensive about that. When I got into the water, it went well for a few minutes until I swam up next to Bobbie.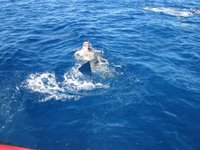 All of a sudden I got a mouth full of sea water and things went downhill from there. No matter what I tried, I just couldn't clear my snorkel. Finally, I ended up treading water, trying desperately not to put me feet down on the delicate reef. They called me back to the boat and gave me a noodle and a new snorkel. The new snorkel was better and had a lockout valve. After a few minutes with it, I no longer needed the noodle. I swam around for a while longer until it was time to leave the reef.
We then headed out to see some turtles. The sea turtles are endangered, so we were given a stern warning that if we got within five feet of them, we could be fined $5,000. We jumped back in the water and were immediately in the middle of a group of turtles swimming deep beneath us. Bobbie was cold and stayed on the boat. I was much more comfortable in the water and dove down a few times to listen to the whales. Even though we couldn't see them, we could hear their deep moans. After about 15 minutes with the turtles, we got back in the boat and headed to shore. As we got close to shore, our guide held out a piece of muffin in her hand. Within seconds she was mobbed by birds, landing on her arm and hand to get at the tasty morsel. She then sent around the muffin tray and we all tried our hand at feeding the birds. It was difficult to hold onto the muffin, but I did get a few to land on my fingers.
We made it back to shore with plenty of time to spare before our flight. We went back to the hotel room, showered, checked out and caught a cab to the airport. Leaving Hawaii, there are two sets of checkpoints to go through. One is Hawaii agriculture, which checks for outgoing fruits and vegetables. The other is standard security. The Maui airport is pretty small so neither was much of a problem. We boarded the airplane and headed home. Even though the plane was an hour late, we managed to make our connecting flight along with our luggage. I guess, since both flights were the same operator, United, they had some incentive to make sure our baggage made it on the plane with us. We got back into Seattle at 1am and headed back to our respective houses. We both had to go to work in the morning but, after all of the things I had done on our trip, work seemed like a great place to get some rest.
For all the pictures, visit
the slide show.
Thursday, March 5, 2009
Riding Bikes in Maui - Part One: The Epic Ride
Normally, I wouldn't agree to go on a trip to Maui with a girl I've only dated for a few weeks but if that trip involved riding bikes...
So on January 15th I found myself on a 777 for the first time, heading out over the Pacific to beautiful Hawaii. We arrived in Maui and the humidity was overwhelming. Still, it was certainly no worse than the summers I had spent in Phoenix trying to stay cool under a swamp cooler. We stayed in Kihei (Kee-hay) at a Best Western on the beach. We were about 300 yards from the ocean. We didn't have a car, but we both had Bike Fridays - folding bikes that fit nicely inside a standard size suitcase.
The first night, we decided to rent boogie boards. We found a surf shop about a mile and a half from the hotel and took the bus down to it. I immediately noticed a sign that said "Free one week boogie board rental with snorkeling purchase". We also wanted to go snorkeling, so we signed up and go the boogie boards thrown in at no extra cost. We decided to walk back to the hotel after eating a quick dinner and then took a walk along the beach.
The next day, we woke up early to go on our snorkeling trip, but when we got to the boat ramp, the captain said he wasn't going in. There was another tour leaving and for a few minutes we were dissapointed we hadn't gone with them. Once we saw the boat flying over the huge waves, our dissapointment turned into relief. I'm sure there were a lot of white faces on that boat.
We went back to the hotel and decided to go on our epic bike ride instead. We had been planning on riding the
west loop
. The epic bike ride turned out to be quite epic. We started out with a strong headwind. I was feeling good, so I managed to keep a 20mph pace for the first 18 miles or so. Bobbie was drafting right behind me the whole time and it definitely worked to her advantage. I started getting tired but she was still going strong. The hot sun was also taking it's toll. By the time we got to Lahaina we were both slightly sunburned and very sweaty. She went to a Starbucks to get a hot chocolate (she's addicted to hot chocolate) and I got a smoothie at Jamba Juice. We sat down and rested in front of the Jamba Juice and she started chatting up one of the locals, asking about the road ahead. He said that it was very scenic but very narrow. One lane. Not one lane in either direction, just one lane. He cautioned us to be very careful. We got back out on the road again and quickly passed the miles on glassy smooth surface. I was beginning to doubt what we had heard about the road ahead when suddenly the smooth road ended and we found ourselves headed into the jungle. Still, there were two lanes but the shoulder was gone and the road was winding and steep. After a while, we broke out of the vegetation and found ourselves riding along a high cliff overlooking the ocean.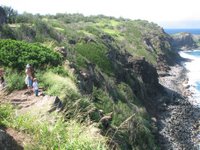 The view was truly amazing. The high road dove back down to sea level again where we stopped at a fruit stand and had some pineapple. The lady also gave us some fresh coconut. I normally love coconut, but what she gave us was bland to bitter. The road then continued up... and up... and up. I was really chugging at that point and Bobbie had slipped down into her low gears. She had a bike with a third small cog on the front that made it easier for her to climb. We didn't know it at the time, but we had reached a stretch of road known as "the wall". We eventually reached the top and came upon another concession stand. This one was an old school bus that appeared to be attached to a long extension cord going somewhere. Maybe to one of the houses below.
What happened at this concession stand would forever change my life. The details are sketchy and have been known to change from time to time. It's like a fishing story, and I'm the fish. It was "The Hot Dog Incident".
I remember it like this:
We came upon the concession stand and looked over the menu. I really didn't think I was hungry, so I told Bobbie I didn't want anything. She asked me if I was sure and I said yes. She ordered a smoothie and a hot dog. She didn't have any cash, so I gave her a couple bucks for the food. When she got the hot dog, she said that she really didn't want it and gave it to me. I started eating it, and once I started, I couldn't stop. I got down to the last bite and she looked at me and said "Can I have a bite". Something inside me, something primal, had taken over. I couldn't stop myself. I put the rest in my mouth and kept chewing. She looked at me in disbelief. "Sorry" I said. She went back to the stand and ordered another hot dog.
They were all out.
I had eaten the last hot dog within 50 miles and my girlfriend wanted a hot dog. I didn't exactly appreciate the gravity of the situation at the time. I chalk it up to fatigue. She claims that I snatched the hot dog and gobbled it up. She only offered me a bite. That's entirely possible. My memory is kind of hazy. Guys are like that sometimes.
We set off again and headed down the road. We had been told that there was about six miles of one lane dirt road ahead and we eventually hit it. It wasn't as bad as we thought, because even though only one car could pass, it was usually wide enough for a car and a bike. Right around that time, it started to rain. At first a sprinkle here and there, but as we got out of the winding one lane road and started getting back into civilization, the sky opened up and it started pouring.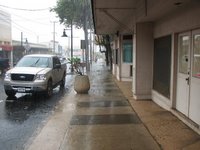 It was a warm rain and there was really no point to even trying to stay dry. We just kept going. The only problem was that our map was quickly turning into mush and the wet had rendered my iPhone, with it's Google Maps, useless. It turns out, touch screens don't work well when they're wet. We managed to make the map last long enough to find the road back to the hotel. The rain and dirty water being kicked up by our wheels was starting to mess up the bikes. Bobbie's gears started grinding after her shifting went bad. My shifting wasn't in good shape either. Just when we thought we were on the home stretch, she got a flat. Fortunately, I had a spare tube. Even thought it wasn't the right kind of valve stem, I managed to make it work. Just when we were getting back out on the road again, I noticed my bike didn't feel quite right. To my dismay, my front tire was flat. Even worse, my back tire was flat too. We had gotten three flats between us and only had one spare tube. No patch kit. I had never needed a patch kit before. Fortunately, we were right along the bus route back to the hotel. We saw a bus headed in the opposite direction and asked the driver if he knew when the other bus would be coming. He said it would be along shortly. It wasn't too long before the bus arrived. I put my bike on the rack, but there was already another bike on it, so there was no room for Bobbie's. Her bike was smaller and easier to fold so I figured we could just take that on the bus. At first the bus driver said she couldn't allow the bike on, but when she realized it was a folding bike, she let it on. After a seemingly long bus ride, we finally made it back to the hotel. It was dark by then and we just wanted to sleep. We ended up getting dinner a small store in the hotel next to us.
The next day was spent resting. We slept in and then went down the street to a local bike shop. I got a couple of patch kits and another tube, then we went back to the hotel room and I started patching tires. I got one of my tires patched but the other one had a broken valve stem and was a total loss. When I went to use the one I had gotten at the bike shop, I realized that it was the wrong size. I later learned that I was another victim of the randomness that is bicycle tire sizing. Bike Fridays have small wheels that are uncommon to begin with. The tube size is 20x1/4 and while it's unlikely a bike shop will have that, many have 20x.35. Most people, including people working at bike shops, will assume that 20x1/4 is 20x.25 which is not much smaller than 20x.35. It's basic counting and since bicycle tubes don't have to be exact when it comes to width, a 20x.35 should work in a 20x.25. Unfortunately, what seems like a dimension is not a dimension. It's more of a model number. 20x1/4 tubes are 20 inches in diameter but 20x.35 tubes are 18 inches in diameter. It turns out, that my spare tube fit Bobbie's wheels because she, as we suspected earlier, had smaller wheels. I did manage to fit the smaller tube onto the wheel by stretching it out on the rim with the tire already mounted on one side. I then inflated it slightly to make it round and worked the other side of the tire on. In the end, we both ended up with usable bikes.
I got done working on the bikes around one in the afternoon, so we went down to the beach and went boogie boarding. There were some good waves and we had a lot of fun. After an hour or so, we went back to the hotel and slept for a while. There was still more work to be done on the bikes, both of them were having shifting problems. After much discussion, we decided to go back to the bike shop and get a part that had broken on Bobbie's bike. I needed the same part for one of mine back home, so I decided to use it on hers temporarily. She had decided the day before that she really didn't like her bike and wanted to get a better model. Bike Friday told her it would be no problem to upgrade. After more hours of working on the bikes, I finally had things working well enough.
Part two to come... for all the pictures, visit
the slide show.
Subscribe to Posts [Atom]