Thursday, March 5, 2009
Riding Bikes in Maui - Part One: The Epic Ride
Normally, I wouldn't agree to go on a trip to Maui with a girl I've only dated for a few weeks but if that trip involved riding bikes...
So on January 15th I found myself on a 777 for the first time, heading out over the Pacific to beautiful Hawaii. We arrived in Maui and the humidity was overwhelming. Still, it was certainly no worse than the summers I had spent in Phoenix trying to stay cool under a swamp cooler. We stayed in Kihei (Kee-hay) at a Best Western on the beach. We were about 300 yards from the ocean. We didn't have a car, but we both had Bike Fridays - folding bikes that fit nicely inside a standard size suitcase.
The first night, we decided to rent boogie boards. We found a surf shop about a mile and a half from the hotel and took the bus down to it. I immediately noticed a sign that said "Free one week boogie board rental with snorkeling purchase". We also wanted to go snorkeling, so we signed up and go the boogie boards thrown in at no extra cost. We decided to walk back to the hotel after eating a quick dinner and then took a walk along the beach.
The next day, we woke up early to go on our snorkeling trip, but when we got to the boat ramp, the captain said he wasn't going in. There was another tour leaving and for a few minutes we were dissapointed we hadn't gone with them. Once we saw the boat flying over the huge waves, our dissapointment turned into relief. I'm sure there were a lot of white faces on that boat.
We went back to the hotel and decided to go on our epic bike ride instead. We had been planning on riding the
west loop
. The epic bike ride turned out to be quite epic. We started out with a strong headwind. I was feeling good, so I managed to keep a 20mph pace for the first 18 miles or so. Bobbie was drafting right behind me the whole time and it definitely worked to her advantage. I started getting tired but she was still going strong. The hot sun was also taking it's toll. By the time we got to Lahaina we were both slightly sunburned and very sweaty. She went to a Starbucks to get a hot chocolate (she's addicted to hot chocolate) and I got a smoothie at Jamba Juice. We sat down and rested in front of the Jamba Juice and she started chatting up one of the locals, asking about the road ahead. He said that it was very scenic but very narrow. One lane. Not one lane in either direction, just one lane. He cautioned us to be very careful. We got back out on the road again and quickly passed the miles on glassy smooth surface. I was beginning to doubt what we had heard about the road ahead when suddenly the smooth road ended and we found ourselves headed into the jungle. Still, there were two lanes but the shoulder was gone and the road was winding and steep. After a while, we broke out of the vegetation and found ourselves riding along a high cliff overlooking the ocean.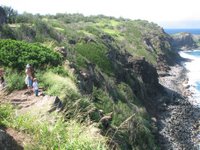 The view was truly amazing. The high road dove back down to sea level again where we stopped at a fruit stand and had some pineapple. The lady also gave us some fresh coconut. I normally love coconut, but what she gave us was bland to bitter. The road then continued up... and up... and up. I was really chugging at that point and Bobbie had slipped down into her low gears. She had a bike with a third small cog on the front that made it easier for her to climb. We didn't know it at the time, but we had reached a stretch of road known as "the wall". We eventually reached the top and came upon another concession stand. This one was an old school bus that appeared to be attached to a long extension cord going somewhere. Maybe to one of the houses below.
What happened at this concession stand would forever change my life. The details are sketchy and have been known to change from time to time. It's like a fishing story, and I'm the fish. It was "The Hot Dog Incident".
I remember it like this:
We came upon the concession stand and looked over the menu. I really didn't think I was hungry, so I told Bobbie I didn't want anything. She asked me if I was sure and I said yes. She ordered a smoothie and a hot dog. She didn't have any cash, so I gave her a couple bucks for the food. When she got the hot dog, she said that she really didn't want it and gave it to me. I started eating it, and once I started, I couldn't stop. I got down to the last bite and she looked at me and said "Can I have a bite". Something inside me, something primal, had taken over. I couldn't stop myself. I put the rest in my mouth and kept chewing. She looked at me in disbelief. "Sorry" I said. She went back to the stand and ordered another hot dog.
They were all out.
I had eaten the last hot dog within 50 miles and my girlfriend wanted a hot dog. I didn't exactly appreciate the gravity of the situation at the time. I chalk it up to fatigue. She claims that I snatched the hot dog and gobbled it up. She only offered me a bite. That's entirely possible. My memory is kind of hazy. Guys are like that sometimes.
We set off again and headed down the road. We had been told that there was about six miles of one lane dirt road ahead and we eventually hit it. It wasn't as bad as we thought, because even though only one car could pass, it was usually wide enough for a car and a bike. Right around that time, it started to rain. At first a sprinkle here and there, but as we got out of the winding one lane road and started getting back into civilization, the sky opened up and it started pouring.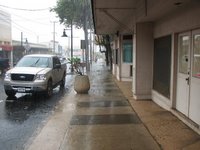 It was a warm rain and there was really no point to even trying to stay dry. We just kept going. The only problem was that our map was quickly turning into mush and the wet had rendered my iPhone, with it's Google Maps, useless. It turns out, touch screens don't work well when they're wet. We managed to make the map last long enough to find the road back to the hotel. The rain and dirty water being kicked up by our wheels was starting to mess up the bikes. Bobbie's gears started grinding after her shifting went bad. My shifting wasn't in good shape either. Just when we thought we were on the home stretch, she got a flat. Fortunately, I had a spare tube. Even thought it wasn't the right kind of valve stem, I managed to make it work. Just when we were getting back out on the road again, I noticed my bike didn't feel quite right. To my dismay, my front tire was flat. Even worse, my back tire was flat too. We had gotten three flats between us and only had one spare tube. No patch kit. I had never needed a patch kit before. Fortunately, we were right along the bus route back to the hotel. We saw a bus headed in the opposite direction and asked the driver if he knew when the other bus would be coming. He said it would be along shortly. It wasn't too long before the bus arrived. I put my bike on the rack, but there was already another bike on it, so there was no room for Bobbie's. Her bike was smaller and easier to fold so I figured we could just take that on the bus. At first the bus driver said she couldn't allow the bike on, but when she realized it was a folding bike, she let it on. After a seemingly long bus ride, we finally made it back to the hotel. It was dark by then and we just wanted to sleep. We ended up getting dinner a small store in the hotel next to us.
The next day was spent resting. We slept in and then went down the street to a local bike shop. I got a couple of patch kits and another tube, then we went back to the hotel room and I started patching tires. I got one of my tires patched but the other one had a broken valve stem and was a total loss. When I went to use the one I had gotten at the bike shop, I realized that it was the wrong size. I later learned that I was another victim of the randomness that is bicycle tire sizing. Bike Fridays have small wheels that are uncommon to begin with. The tube size is 20x1/4 and while it's unlikely a bike shop will have that, many have 20x.35. Most people, including people working at bike shops, will assume that 20x1/4 is 20x.25 which is not much smaller than 20x.35. It's basic counting and since bicycle tubes don't have to be exact when it comes to width, a 20x.35 should work in a 20x.25. Unfortunately, what seems like a dimension is not a dimension. It's more of a model number. 20x1/4 tubes are 20 inches in diameter but 20x.35 tubes are 18 inches in diameter. It turns out, that my spare tube fit Bobbie's wheels because she, as we suspected earlier, had smaller wheels. I did manage to fit the smaller tube onto the wheel by stretching it out on the rim with the tire already mounted on one side. I then inflated it slightly to make it round and worked the other side of the tire on. In the end, we both ended up with usable bikes.
I got done working on the bikes around one in the afternoon, so we went down to the beach and went boogie boarding. There were some good waves and we had a lot of fun. After an hour or so, we went back to the hotel and slept for a while. There was still more work to be done on the bikes, both of them were having shifting problems. After much discussion, we decided to go back to the bike shop and get a part that had broken on Bobbie's bike. I needed the same part for one of mine back home, so I decided to use it on hers temporarily. She had decided the day before that she really didn't like her bike and wanted to get a better model. Bike Friday told her it would be no problem to upgrade. After more hours of working on the bikes, I finally had things working well enough.
Part two to come... for all the pictures, visit
the slide show.
Subscribe to Posts [Atom]